London's 'Living Room'
Another work function
, another famous building ticked off the list.
This time I blagged my way into a launch function for the
London Food Strategy
, which is an initiative by some collegues of mine at the LDA to "improve the health of Londoners and look at ways of making London's food sustainable over the next 10 years." It's a great initiative and something that I will be keeping in my file to take home as one of those projects that you just don't see happening in Australia, but is viewed as critical to sustainability and health in a big city like London.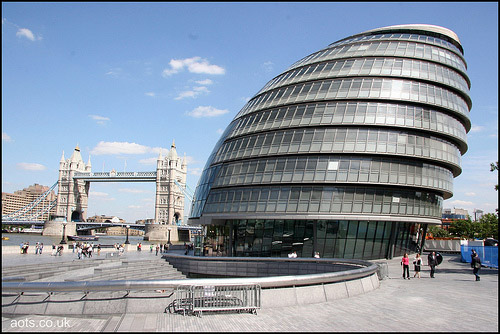 City Hall with Tower Bridge in the background
But anyway, about the function - the Food Unit put on a gathering on the top floor 'Living Room' area of City Hall to celebrate the launch of the strategy. The function included stalls of local producers showing of samples of their products (including locally grown UK wines and micro-brewed beers), and a great crowd of food industry people to mingle amongst. The beers brewed locally in Greenwich were my favourites, followed by the goats cheese - great stuff.

-shane